Bioflow Magnetic Products - for people and pets
Rhoda used to supply these, but they are now available direct from Bioflow www.bioflow.co.uk.
The only magnetic product endorsed by Gavin Hastings OBE, former captain of Scotland and the British and Irish Lions.
Rhoda used the magnetic boots first - she found them excellent to promote healing in her horse and especially good for reducing filled legs in stabled horses. The 'small' size fits most horses and ponies.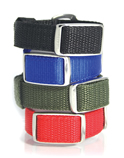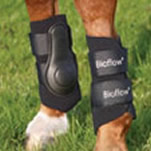 Rhoda then bought a Pirouette for herself, and won't take it off now. Several years later it still looks smart, but is worn to the stables every day and is very hardwearing.
Rhoda is a distributor of Bioflow magnetic products - pain relief for people, horses, dogs and cats - and fuel efficiency for your vehicle! For details why don't you contact her? You could significantly improve your well-being, or that of your horse.
© Making Strides 2007
Rhoda McVey BHSAI (Rgd)
Click here to send an email