2017
Lovely to ride Beckham in the HOYS class at the Royal Highland Show for Alison Currie from Orkney. A lot more cleaning required than for TREC.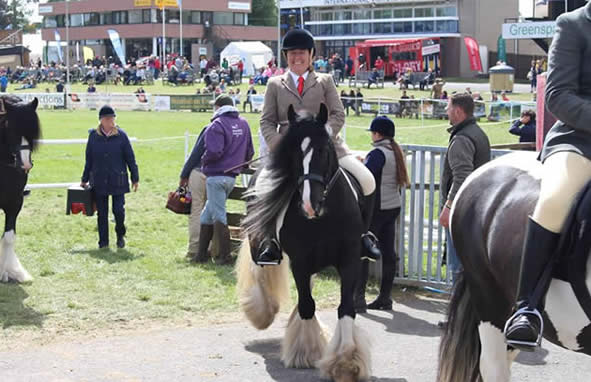 2016
Rhoda has taught at a variety of clinics including Coxhill near Falkirk, and Sandyflat in Glasgow. Fizz (Making Strides Fizzical Presence) has been re-inventing herself as a jumping pony with several sucessful outings to show jump, do cross country and of course visit the beach.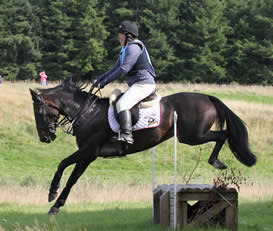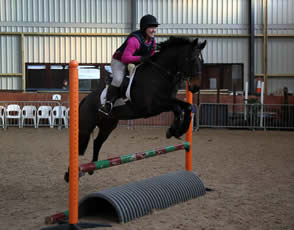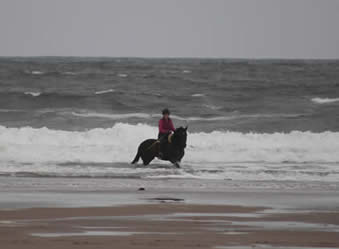 September 2015
Rhoda has taught at two clinics this month in Fife and Renfrewshire. She is available for clinics across Scotland, by arrangement.
August 2015
Rhoda was second at the British TREC Championships, held at Gorebridge near Edinburgh, in the L2 Pairs class with Katja Voigt. 25km orienteering, plus a 4km galloping PTV, played to Rhoda's strengths.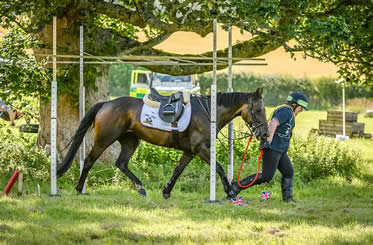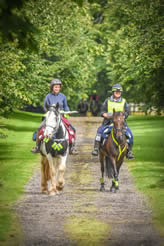 Photos courtesy of Steve Wall Equestrian Photography
2014
Rhoda qualified for the British Championships in England, however was unabe to attend due to health issues for her horse.
September 2013
Rhoda was third at the British TREC Championships in Wales.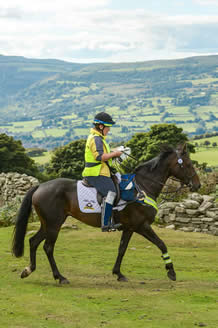 photo courtesy of Steve Wall Photography
November 2012
Rhoda has just run a successful training course at Newtonmore Riding Centre for six candidates who sat the TRSS Equestrian Tourism Ride Leader and Senior Rider Leader Exams. All six passed.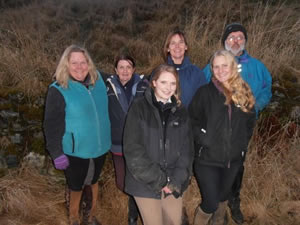 September 2012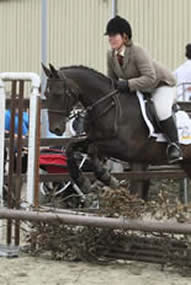 Rhoda tried out Working Hunter Pony with Fizz this month - there aren't many classes for adults on ponies and then two shows came along in two weeks. Three clear rounds out of three for Fizz. We still prefer Trec as we don't have to plait up! It was also a real pleasure to be at Newtonmore Riding Centre for the 60th Anniversary of Pony Trekking.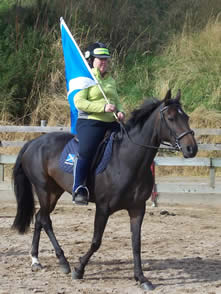 June 2012
Rhoda is just back from competing in the European Cup competition at Bad Hersfeld, Hessen, Germany as part of her preparation with the GB Trec Squad. She competed on 17.1hh coloured warmblood Maurice, but was also able to ride Ifor round the PTV for owner Katja Voigt.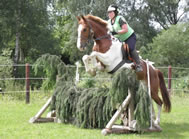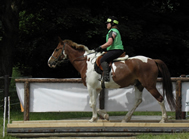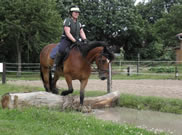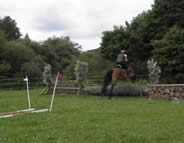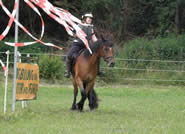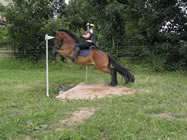 March 2012
Rhoda is just back from a recce trip to Mafra in Portugal, the venue for the 2012 World Trec Championships. The squad were out, checking out possible horses for hire, and walking potential routes for the orienteering section.
Friday 6th January 2012 - GB Team shortlist released
Rhoda was delighted to find she has been shortlisted to represent GB at the World Trec Championships at Mafua in Portugal in September 2012, along with Dot Still from Hyndshawland. Ten are on the shortlist, and six will be selected for the team. It is a great honour to get this far. The squad are off to Portugal on a recce in March 2012 - watch this space for photos.
2011 News
Fizz on the cover !
Fizz and Rhoda are on the cover of the Equestrian Lifestyle magazine - read the story of how Rhoda met Fizz, and Fizz captured Rhoda's heart.
British Championships, Dartmoor, September 2011
The Scottish team did really well on Dartmoor - Lianne Bourne, Level 2 Champion, Ian Macalindon 2nd in Level 3, Alex Wells 2nd in Level 3 pairs, and in Level 4, David Hay Thorburn 3rd, Deborah Swan 4th, Rhoda McVey 8th, Dot Still 10th and Sheila Watson 14th. Rhoda was riding Brenfield Bragi as part of her build up to possible selection for the British Team for the World Championships in Portugal in September 2012, as they are being encouraged to ride a variety of horses. Rhoda is in the GB Development Squad of 12, from which the travelling team of 6 will be chosen. This result meant three Brenfield horses were in the top eight of the Championships - quite an achievement.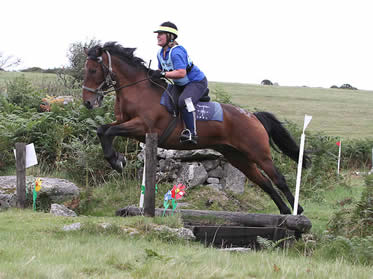 ‹photo by Total Leigh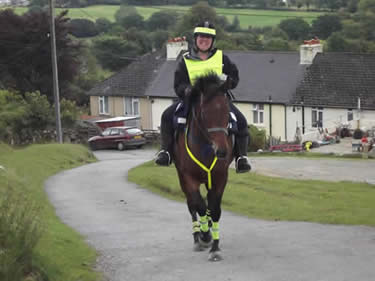 Summer Trec Dates
See the attached for Scottish summer training and competition dates.
Fizz's Season
Photos from Brenfield's Scottish Championships. Fizz has now qualified at Level 3 and Level 4 for the British Championships this September in Dartmoor.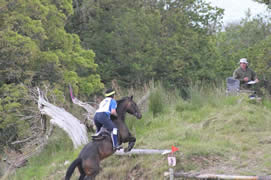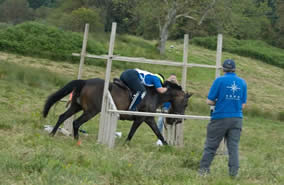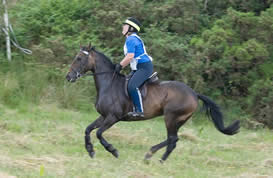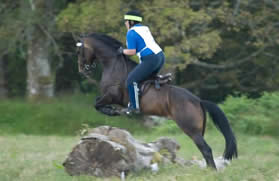 GB Development Squad News
Rhoda McVey and Fizz (Ms Fizzical Presence) and Dot Still from Hyndshawland Livery Yard at Elsrickle are both delighted to have been asked to attend GB Development Squad Training near Pickering in North Yorkshire at the end of April, looking towards possible selection for future GB international teams. Dot has an exciting prospect with her new Connemara gelding, Arthur, who has big shoes to fill whilst her lovely chestnut gelding Max is recuperating from injury.
Dressage Training in Glasgow - February 2011
Fizz showing that she and Rhoda clean up quite well - a change from their more usual Trec attire. Photo by Paul Gillen at www.hoofprints-photography.co.uk.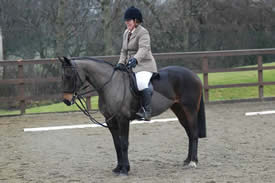 Kelly Marks Winter Trec Series in Glasgow
Sorry to say that the competition on the 23rd of January has been cancelled - hope the weather continues to improve, but it didn't come soon enough for this weekend!
2010 News
Fizz at the Beach with Holly and Lianna - September 2010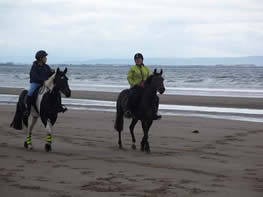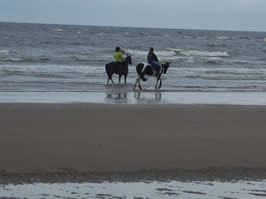 Becki Hughes and Touchdown Valley
One of Rhoda's regular clients, Becki showing that Fallon is a great jumper as well, see YouTube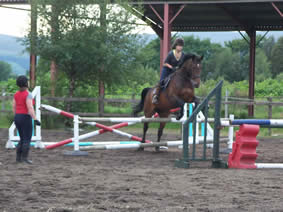 Don't our horses give us pleasure just by looking at them in the field or stable? Making Strides Fizzical Presence is a British Trec Champion, but enjoys being just Fizz in the field with her Highland pony friend, Shuna.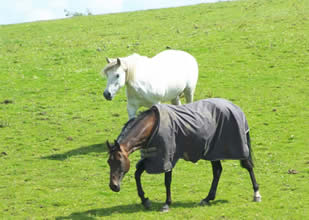 Forthcoming Trec training and competitions - click here for info
Some recent lessons summer 2010
Not a trec obstacle in sight as Rhoda does a lot of flatwork and jumping lessons too, or maybe you'd like to learn to lunge your horse?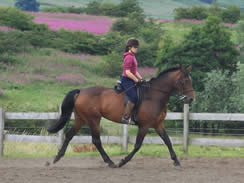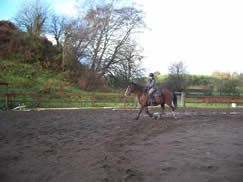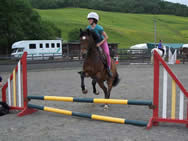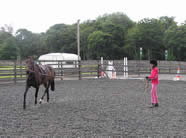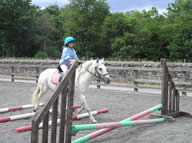 Trec Competition Results for SNEC, 24th July 2010 - here, and photos from SNEC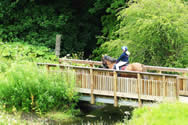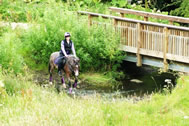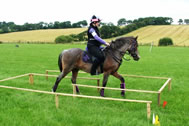 Scottish Trec Squad Training
We had a great time at Newtonmore Riding Centre last weekend - great facilities, company and training from Tove Gray-Stephens and Elanor McNamara. The Step Up/Step Down was 1.30m on the left, and the Eriskay pony in the picture is only 12.3hh. Thanks to Ruaridh Ormiston for building this for us. Roll on the British Championships in August in Wales!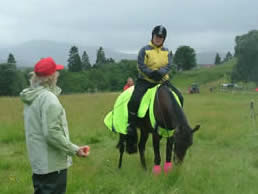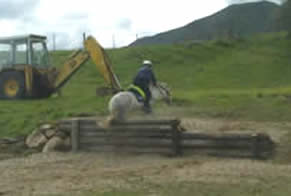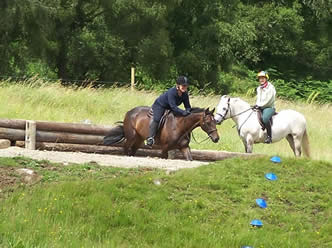 From this angle it doesn't look so big!
Fizz's first Level 3 Trec competition at Brenfield
We had a wonderful time last weekend at a great location at Brenfield Farm, Ardrishaig, coming a close second in our first Level 3 competition together, and qualifying at Level 3 for the British Championships in North Wales in August. Results are at BHS Trec League Results. The ditch had a green inflatable crocodile in it - as seen in many ditches whilst hacking in the Highlands..........
Fizz has moved!
Thanks to Becki and Seonaid for their help in moving Fizz and settling her into her new yard. We hacked 27km today from Drymen to Milton of Campsie, averaging 7.2kph, pretty good since it was 25 degrees and sunny! The yard is only a mile from home as the crow flies and the horse walks, so I'll be able to ride her there, and walk back and fore - surely good for my fitness! I've walked it once already..... then had to take the car over with some of her kit!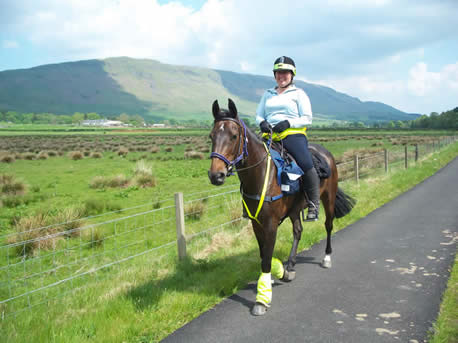 Trec at SNEC
We had a great (if windy) day at Oatridge on Saturday - well done to Anne and Kay who won Open and Newcomers respectively. View the results for yourself - if anyone would like a photo posted here, just e-mail it to me. Look out for dates at the end of July and August at Oatridge for more competitions, and we'll include a 'Starter' class which will have no CoP.
Fizz's trip to England
May 2010 - Wonderful trip to do some cross country training at Blackdyke Farm, followed by a Trec comp at Kirkby Lonsdale. Rhoda paired with a lovely local lady, Janet Casey, and her grand horse Boris, also known as 'Having Fun', and they won the pairs comp. Golly galoshes came up trumps again too!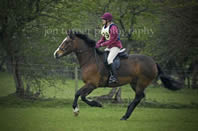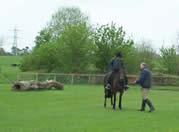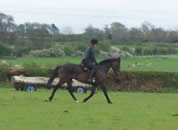 Fizz's Golly Galoshes - excellent for keeping her sports boots clean and dry! I was despairing at washing them all the time, and these have done the trick :-)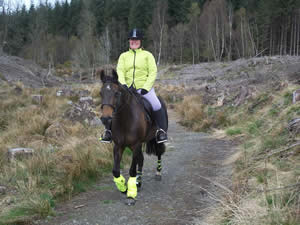 Culbokie April 2010 photos








BHS EQUESTRIAN TOURISM CENTRE MANAGER EXAM
The first Scottish BET Centre Manager exam for some time was held at Crieff Hydro Stables on the 21st of April and Rhoda was delighted to pass the exam along with Nora Wedel from Argyll Adventure near Inveraray, Diane McKay from Doll Riding Centre, Brora, Amanda Waugh from Skibo Stables, Dornoch and Tonya Clement from Newtonmore Riding Centre. This exam is equivalent in standard to the BHSI Stable Manager's Certificate, but tailored towards Equine Tourism, and is administered internationally by FITE who administer Trec competitions.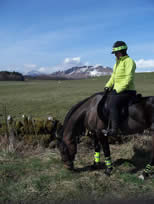 Happy Easter to you all - isn't it great to get out hacking?
BHS Trec at the Scottish National Equestrian Centre, Oatridge, West Lothian
Rhoda is training at Oatridge on Friday 30th April, and running a short format competition (CoP and PTV) there on Saturday 15th May. Clck on the dates for more details.
Results from the Kelly Marks Winter Series Trec competiton on 28th March at Sandyflat Glasgow are here. Results from 14th March are here. Photographs of both competitions are on Hoofprints Photography and a selection of the photos are below.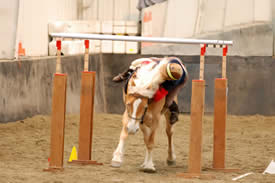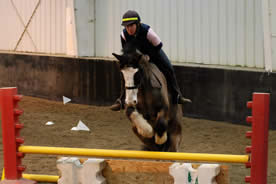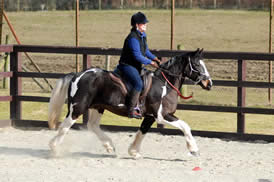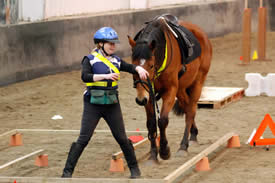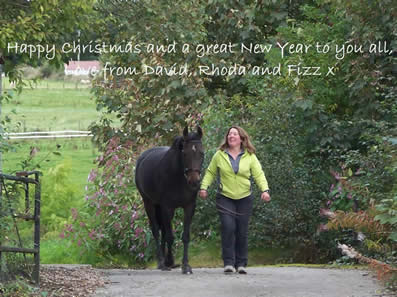 Kelly Marks Trec Competitions 5th, 6th and 7th December 2009
Results from Logie, Brodie and Borlum - well done to all who took part!
Fizz on a winter hack - December 09
Results from Kelly Marks Winter Series 2009 - Sandyflat Saturday 17th October
Forthcoming First Aid Courses - 26 October (refresher) in Drumnadrochit, and 3-4 November (Hayfield, Aberdeen) and 14-15 November in Newtonmore (2 day initial course). Book via www.bhsscotland.org.uk.
Rhoda is running a training course and British Equestrian Tourism exam at Newtonmore Riding Centre early in September, together with First Aid Training in Dunblane on the 8th and 9th of September. (4.9.09 Update - congratulations to all eight candidates as they all passed their exam on the 3rd This was a great group to work with, and Newtonmore Riding Centre excelled on its first examination course and day. It's a great place for a holiday too, and you can bring your own horse!) Trec Training is on offer at Sandyflat RDA in Glasgow on Saturday 26th September, in preparation for Kelly Marks Winter Indoor Competitions on the 17th of October, the 23rd of January and the 14th of March.
Sandyflat Training Form Sandyflat October Entry Form
August 21st to 23rd 2009 !! BRITISH TREC CHAMPIONSHIP WIN !!
Rhoda and Fizz were absolutely delighted when they won at the British Trec Championships at West Linton this weekend. The Level 2 Individual competition is always the biggest class and there were many top combinations there. This was Fizz's fourth competition, third win and first attempt at the Championship. To win was amazing. Fizz proved her fitness by climbing a 1754ft hill as part of the orienteering section on Saturday, covering 21.4km in 3.5 hours (although Rhoda led Fizz part of the way up the hill as it was VERY steep as you can see from the photo!) Sunday's PTV was a demanding, galloping course. The first obstacle on the PTV was a staircase, pictured below, proving her versatily, and Fizz took the other obstacles like the water, bridge, bending and ditch in her stride.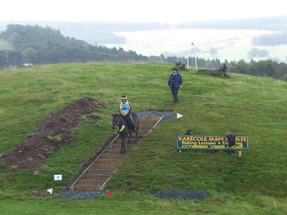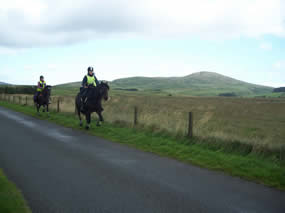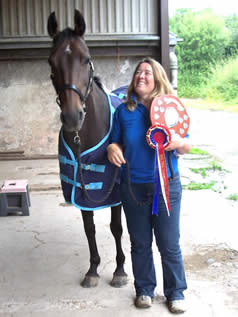 August 1st and 2nd 2009
Rhoda drove five hours' south for a wonderful Yorkshire welcome at the Skipton Trec Level 2 competition and was thrilled that Fizz finished fourth. Galloping the low branches on a curve was definitely a highlight! Can you wear too much fluorescent??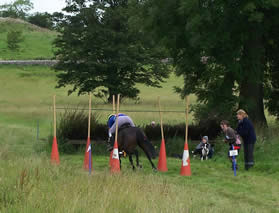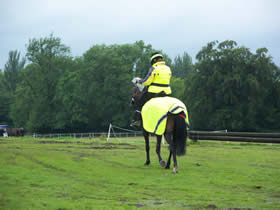 July 25th 2009
30 riders enjoyed wonderful weather, a large variety of obstacles, CoP practice, and a 12km orienteering route through the Queen Elzabeth Forest Park on Saturday. Drymen Showfield proved to be an ideal venue, and most riders mastered the Maypole!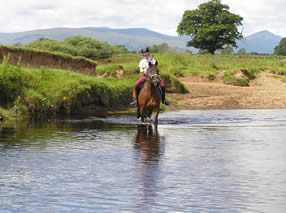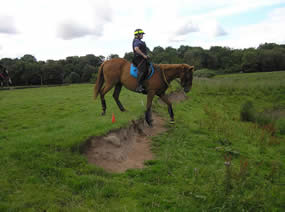 June 2009
The Hyndshawland Trec competition took place in the Scottish Borders on the 6th and 7th of June. Fizz and Rhoda won the Level 2 Individual class, dropping just five points on the Orienteering Section, and getting their best scores so far in both the Control of Paces and the PTV phases.
16/17 May 2009
The Brenfield TREC qualifier managed to have good weather all weekend for the second qualifier of the year for the British Championships. Rhoda and Fizz paired with Katja and Shadow in the Level 2 Pairs class, and won. Rhoda was particularly delighted with Fizz's way of going and getting 10 for Brenfield's version of the Hickstead Derby Bank!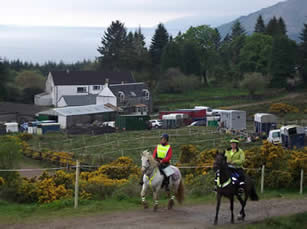 10 May 2009
Fizz is now fully recovered and as you can see from the photo - is the picture of health out on a hack today. Roll on Friday as she is off to Brenfield for the TREC qualifier for the British Champs.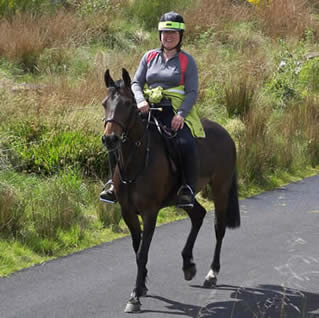 29 April 2009
Fizz out grazing in hand, with her poultice boot and her Bioflow tendon wraps to aid healing - as happens with horses, she got a bruised sole at a Trec competition with Julia Hach, so is on box rest, but she'll be fine for the Brenfield TREC in the middle of May when Rhoda will be riding her.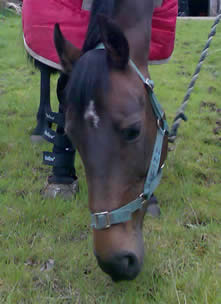 18 April 2009
Fizz took part in her first ever dressage test - at Sandyflat Glasgow, and was fourth in a class of 13 with 70%. She will be unrecognisable to her Trec buddies and Rhoda is even wearing a hacking jacket!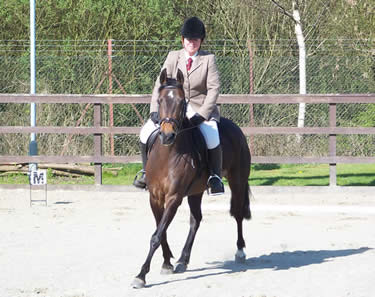 2008 Trec News
BHS TREC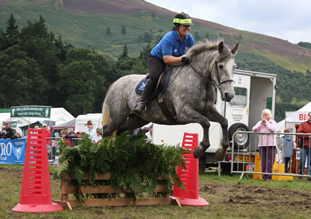 Photo by Pam Scott Photography
Rhoda McVey was one of three riders taking part in the BHS Trec demo at Blair Castle Horse Trials in August 2008, again on Carolyn MacDonald's lovely grey mare, Corrie. There was a great deal of interest in BHS Trec and the demos went extremely well - and the rain stayed off too!
Rhoda paired with German rider, Katja Voigt, for the BHS Trec British Championships on the 16th and 17th of August in Derbyshire, this time riding on borrowed horses from Trans-Wales Trails - the pair were a creditable 10th out of 22 pairs. Sheila Watson from Scotland won the Level Three individual competition, and David Hay-Thorburn from Brenfield won the Level 4 British Championship on his wonderful coloured mare, Brenfield Mhairi. Photos can be seen on British Championships photo link

BHS Trec British Championships 2007
Four BHS Highland South members travelled to the British Championships at Rodbaston College in Staffordshire on the 1st and 2nd of September, a round trip of 900 miles. The competition (and the ground) was extremely hard but Lorna Holden finished 8th in the Level 4 on Brenfield Braggi, Sonia Whittington and Morven Sharp finished 6th in the Level 2 pairs, and Rhoda McVey finished 12th, and best Scottish Rider, in the Level 2 individual competition. Rhoda was kindly lent a lovely Connemara/TB mare called Corrie by Carolyn MacDonald from West Linton, and the pairing went extremely well together.

TREC European Championships 2006
One of Rhoda's regular clients, Lorna Holden, represented Great Britain at the TREC European Championships in Exmoor in September 2006. It was a great honour for Lorna to make the squad in a sport that's growing rapidly in popularity. BHS TREC tests the partnership's ability to cope with an all-day ride across varied terrain, route finding, negotiating natural obstacles and hazards, while maintaining good basic flatwork, considering the welfare of the horse and respecting the countryside. Lorna rode Brenfield Bragi - a horse who regularly does trail rides with clients in the summer from the Argyll stables of Tove Gray Stevens and her son, David Hay Thorburn. David, who was World Champion in 2000, also competed at the Championships on Brenfield Mhairi, gaining top score in one section. Click here to see pictures from the event.
BHS Highland (South) ran a very successful Level 2 Trec competition in Drumnadrochit on the 21st of October 2006. Congratulations to Jeni Birks who won the individual competion, and Sonia and Andrew Whittington-Davis who won the pairs. Click here to see pictures from the event.
Highland Pony Show
At the recent Highland Pony Show in Inverness, Rhoda competed on King Shiehallion who is a part bred and belongs to the Highland Riding Centre at Drumnadrochit. 'Hal' was second in the Ridden Class, and won his Dressage class with 73%. Click here for photos of that show.