Got your own horse or pony? To improve your riding, you need quality instruction. Let Rhoda help you learn and grow together with your horse as a partnership. Rhoda's BHS register of instructors membership means she takes her own on-going learning seriously and is your guarantee of quality.
Rhoda can travel to give tuition in the Glasgow area, with Inverness and other areas by arrangement. She can also make special arrangements for group tuition elsewhere.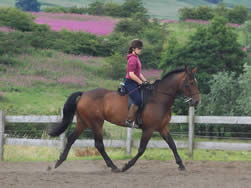 Whatever you want to achieve from your riding, Rhoda can help you make a difference, if you work on it together. She has had particular success in inspiring confidence and enthusiasm so give her a call to discuss your worries or dreams.
Rhoda is a BHS Trec specialist, having won the British Trec Championship (Level 2 Individual) in 2009 and although this is new to a lot of people, but it can be done with any sort of horse or pony - it's fun, sociable and really helps your relationship with your horse.
Leisure riders
Young people
Nervous adults

Riders with native ponies
BHS exam students
Disabled riders
Weekly, fortnightly or monthly lessons provided at your local yard. Whatever your background - give Rhoda a call. Packages available.
"Rhoda's a brilliant teacher and has been a great encouragement to me over the years - I feel I've really come on under her tuition and had a lot of fun in the process!"
BH, Kirkintilloch
"Rhoda is just the right kind of instructor: she knows her stuff and her enthusiasm gets you motivated to improve, but most of all, she makes it fun!"
ET, Helensburgh
"Rhoda is very positive and flexible. Since I met her in April she has learned my sport so she could support me in my quest for selection to the GB TREC squad. It was not easy - since the chosen horse was at the other end of the UK - so she found me a selection of comparable mounts with whom to practice. We made it. She was with me all the way - literally. She even came to Exmoor for a final lesson on THE Horse, and stayed to help the BHS with the competition. She is much more than an Instructor - she is a very caring friend - relax you are in safe hands."
Lorna Holden, GB Trec
[Click here for the Riding Ability Form]
[Click here for Terms and Conditions]